PONTE A MIL
Direct marketing for Subaru
Subaru quería presentar el nuevo modelo de su ya mítico Impreza. La idea era reunir a 100 subaristas en Montmeló para que pudieran probar los 350 CV de este coche. Propusimos un marketing directo que desde el primero momento transmitiera las sensaciones que iban a tener los pilotos el día de la prueba.
Subaru wanted to present the new model of its legendary car: Impreza. The idea was to bring together 100 subarists in Montmelo so they could test the 350 hp of the car. We proposed a direct marketing to warn drivers about what kind of feelings  they would have the day of the test.
Los elegidos recibieron, junto a la invitación del evento, un

reloj pulsímetro

que deberían llevar el día señalado para tomarse las pulsaciones encima del nuevo Subaru Impreza. Un primer impacto que les iba preparando para lo que iban a vivir en el circuito.
The chosen received, together with the invitation to the event, a 

pulse-sensor watch

 that they had to take on the day of the event and that would measure their heartbeats when riding a Subaru Impreza. A first impact that would prepare them for what they would live in the circuit.
Dentro de cada coche colocamos una

cámara

para recoger las sensaciones que los pilotos iban a vivir. Durante la prueba, se les mediría también el ritmo cardíaco.
Inside each car we placed a camera to pick up the emotions the pilots where experiencing. During the test, their heartbeat too.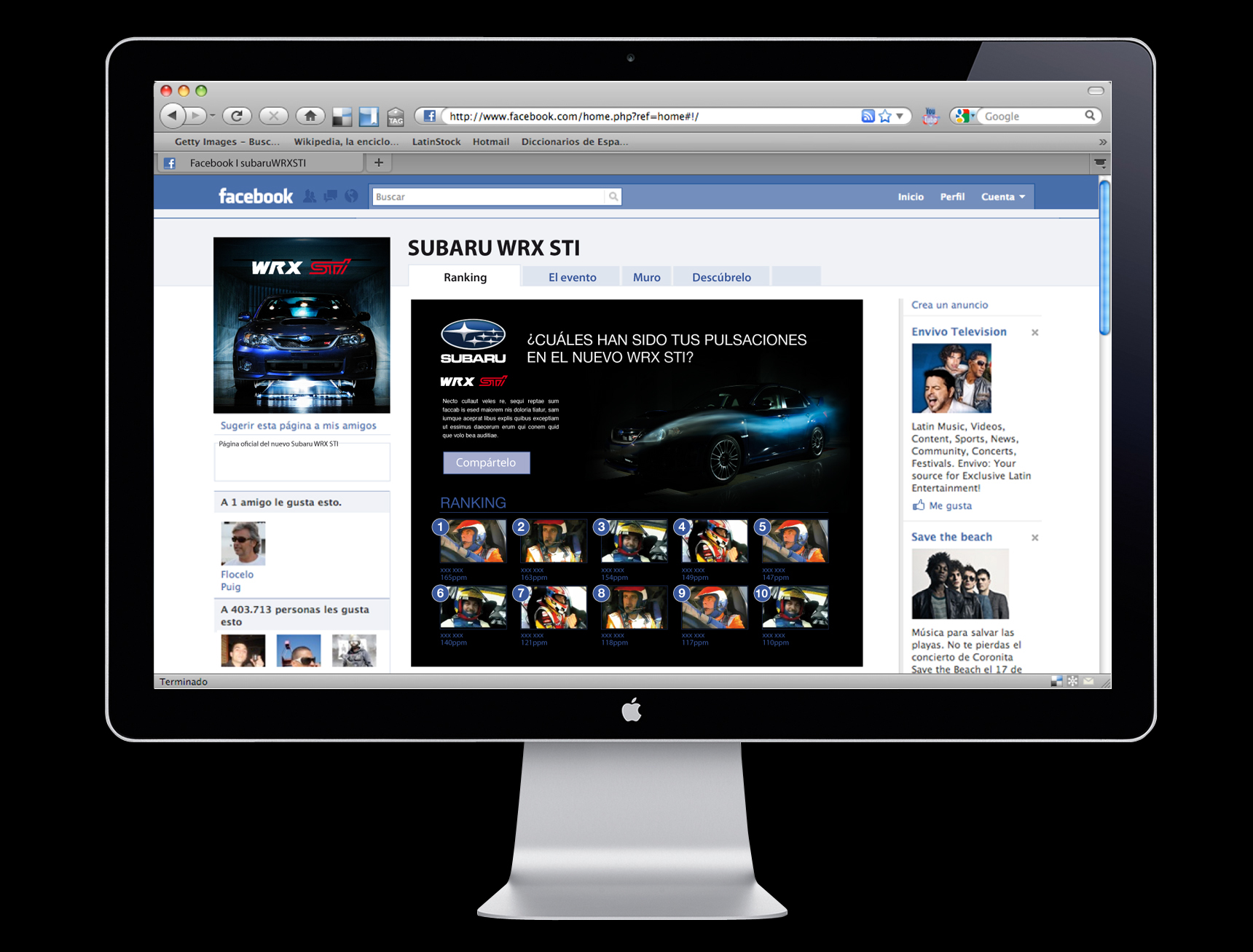 Creamos una página privada en

Facebook

que contenía el ranking de los 100 participantes con las pulsaciones obtenidas durante la prueba del nuevo Subaru Impreza WRX STI.
We created a private page on 

Facebook

that included the ranking of the 100 participants with the heartbeats reached during their test of the new Subaru Impreza WRX STI.