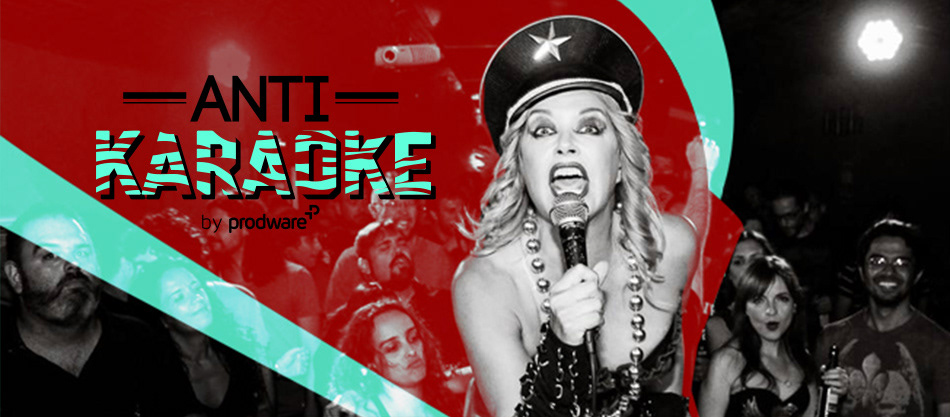 Nuestro cliente Prodware quería organizar un evento interno, un kickoff para despedir el año con sus empleados y anunciar las novedades del curso siguiente. Pero no quería limitarse a las clásicas charlas y comida de empresa, nos pidieron algo diferente: una dinámica en la que se mezclaran los empleados de todas las oficinas de España y una fiesta que se huyera del tono serio y corporativo. 
La idea: crear un entorno radicalmente distinto a la seriedad y autocontrol necesarios en la oficina,
un lugar donde dar la nota por un día.
Nuestra propuesta consistió en un concurso de bandas vocales con el formato de célebre Antikaraoke de Barcelona

.
Para ello contamos con Rachel Arieff, maestra de ceremonias y creadora del Antikaraoke, y la sala Morocco en Madrid. Durante el mes previo al evento los empleados recibieron comunicados por email con las instrucciones para crear sus bandas y centralizamos todo el proceso en una web interna.
Our client, Prodware, wanted to carry out an internal event, a kickoff to say goodbye to the year and announce the new things coming in the next one. But they did not want to limit the event to the usual speeches and company feast, they asked us to do something different: an activity where the employees of all their offices in Spain would take a part in and a party that would strip away the serious, corporate atmosphere.
Our proposal consisted in a voice-band contest with the format of the reknowned Antikaraoke of Barcelona.
To do this we sought the help of Rachel Arieff, the host and creator of Antikaraoke, and hired the Morocco venue in Madrid. During the month prior to the event, the employees received e-mail messages with instructions on how to create their bands and centered the whole process on an internal website.
FASE 1: ELIGE A LOS LÍDERES DE LAS BANDAS
En primer lugar los empleados de la empresa tuvieron que elegir a los líderes de las bandas. Su Axl Rose o John Lennon particular,el encargado de reclutar al resto de grupo.
Recibieron la comunicación por email y votaron entre sus compañeros a través de la página web.
PHASE 1: CHOOSE THE BAND LEADERS
First of all, the employees had to choose their band frontman. Their very own Axl Rose or John Lennon, who was in charge of recruiting the rest of the group.
They got an e-mail and voted for one of their workmates in their website.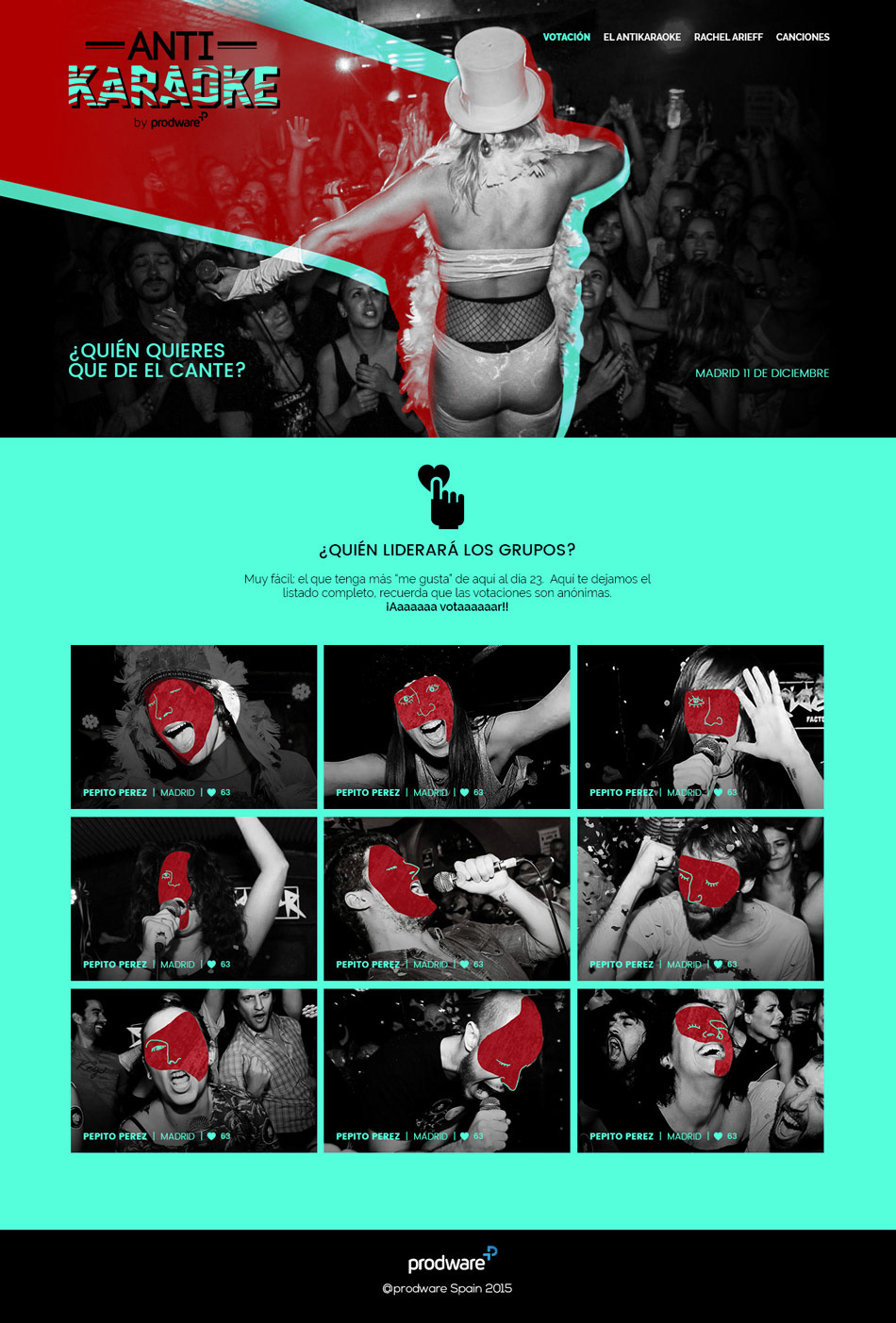 Los líderes electos fueron los encargados de convencer a cinco de sus compañeros para formar parte de su banda. La condición:
tenían que ser personas de distintos departamentos y diferentes sedes de la compañía

.
De esta forma, conseguimos fomentar la comunicación entre trabajadores que no acostumbran a coincidir. Fueron además los encargados de elegir el nombre del grupo y la canción a interpretar.
Por nuestra parte, personalizamos además la imagen del grupo, logotipando el nombre de cada uno de ellos.
PHASE 2: CREATE THE GROUPS
The chosen frontmen had to convince five of their colleagues to join the band. The condition:
they had to be people from different departments and branches of the company.
In this way, we were able to promote the communication amongst workers who usually have no contact with each other. They also had to choose the band's name and the song they would sing.
From our side, we gave each band its own image by creating a logo with their name.
Por supuesto, la competencia entre las bandas sería dura. Para inspirar a los participantes y ayudarles en su preparación, abrimos una sección en la web con
vídeos musicales, gif animados, coreografías, estilismo

...
todo lo que podían necesitar para la actuación de su vida.
The competition between bands would be tough! To help motivate participants and get them ready for the event, we created a special section of the website with music
videos, animated gifs, coreographies, costume design...
everything they could need to prepare the show of their lives.
Un mes antes del evento los empleados ya estaban hablando del antikaraoke, montando los grupos, eligiendo las canciones... Se creó un ambiente mucho más distendido de lo habitual y conseguimos que el kickoff de prodware fuera totalmente diferente de los anteriores, con actuaciones que se alargaron hasta altas horas de la noche.
The employees were already talking about the antikaraoke a month before the set date. Creating their bands, choosing their songs... a more relaxed atmosphere was palpable and we managed to make the kickoff event a completely innovative and different one, with performances that stretched way into the late hours of the night.