PLANET 116: CAMPAÑA DE INCENTIVOS DE PROSEGUR
Prosegur creó un plan de incentivos para que todos los empleados se convirtieran en comerciales de la marca. Funcionaba así: un amigo tuyo contrata un producto o servicio de Prosegur y tú ganas puntos  que pueden canjearse por premios. Pero no queríamos que fuera un plan de incentivos tan frío como sonaba. Así que propusimos un juego virtual que se desarrollaría en un planeta ficticio: PLANET 116. El número hacía alusión al número de pantone de la marca, pues su color es casi un emblema para ellos.  La mecánica era sencilla: los participantes construyen un mundo de tranquilidad pasando sencillas pruebas con lo cual van adquiriendo un rango cada vez más importate. 
Prosegur created an incentive plan for employees to become salesman during a time.  It worked like this: your friend purchased a product or service of Prosegur and you earned points that can be exchanged for great prizes. But we didn't want a typical incentive plan. So we proposed a virtual game developed in a fictional planet: PLANET 116. The Pantone number of Prosegur, because its color is a symbol of the brand. The mechanism was simple: participants built a world of tranquility passing simple tests with which they acquire an increasing status.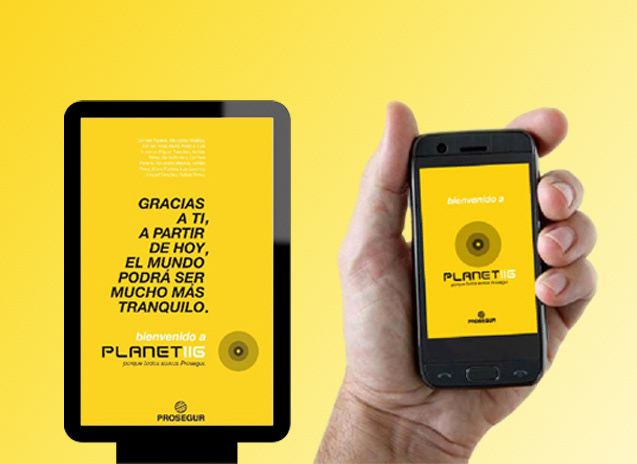 Un día, cuando los trabajadores llegaban a sus lugares de trabajo, encontraban la oficina llena de carteles como el que vemos abajo. Ellos no sabían nada de nada por entonces.
Se les envió un emailing y también un MMS a su teléfono móvil.
One day, when the workers arrived at their workplace, they found a box full of posters such as the one seen below. They had no idea about the action.
They also received an e-mail and a MMS was sent to their mobile phone.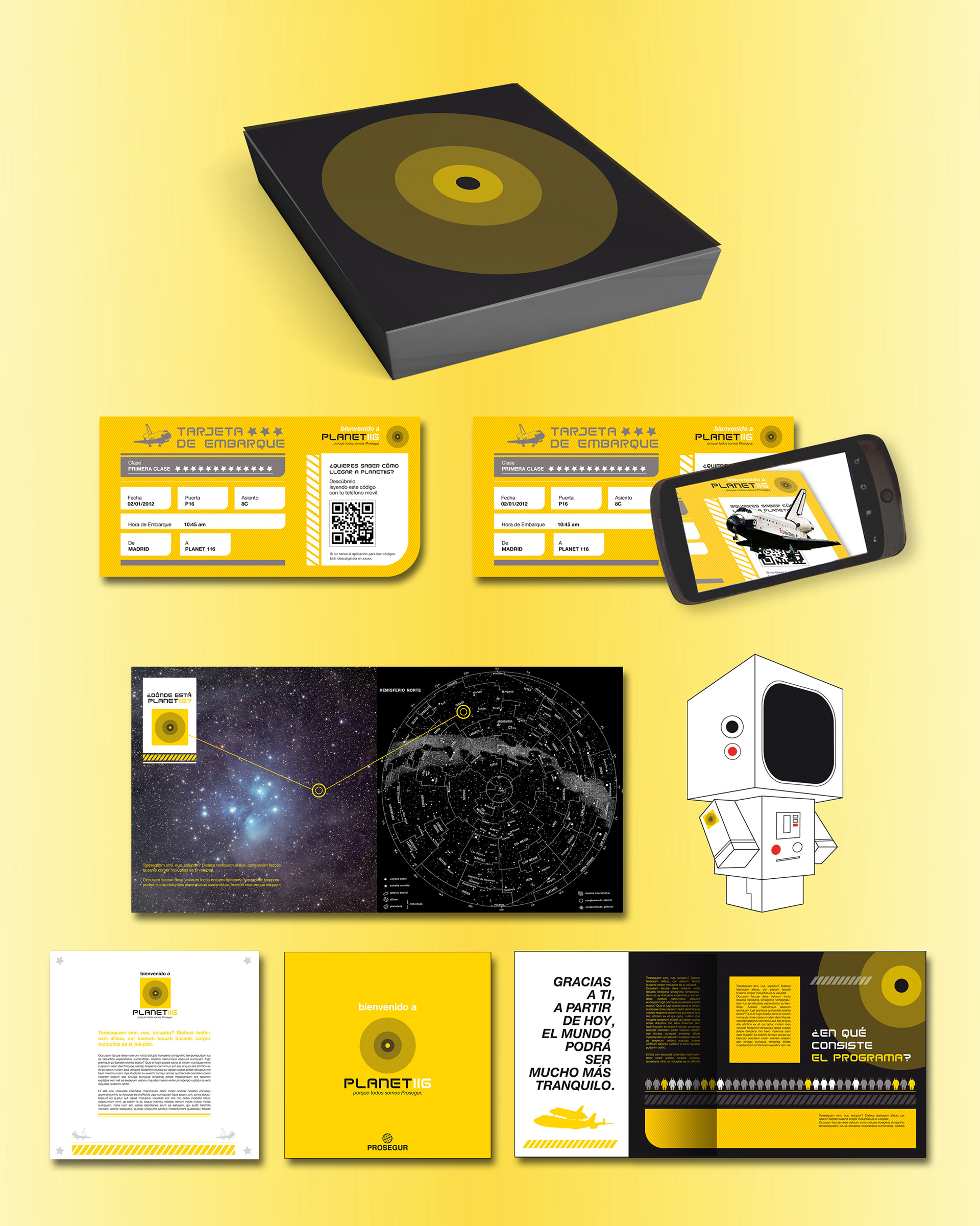 En sus mesas tenían una caja que  contenía dos billetes para viajar a Planet 116. Con una aplicación en el móvil el billete se convertía en un transbordador espacial gracias a la realidad aumentada.
Además, la caja contenía un mapa estelar señalizando las coordenadas concretas donde se ubicaba el planeta y un folleto explicando todo el programa de manera directa.
On their desks they had a box that contained two travel tickets to Planet 116. With a mobile phone app the ticket transformed in a space shuttle thanks to augmented reality.
The box also contained a stellar map indicating the exact coordinates where the planet was and a brochure explaining the program.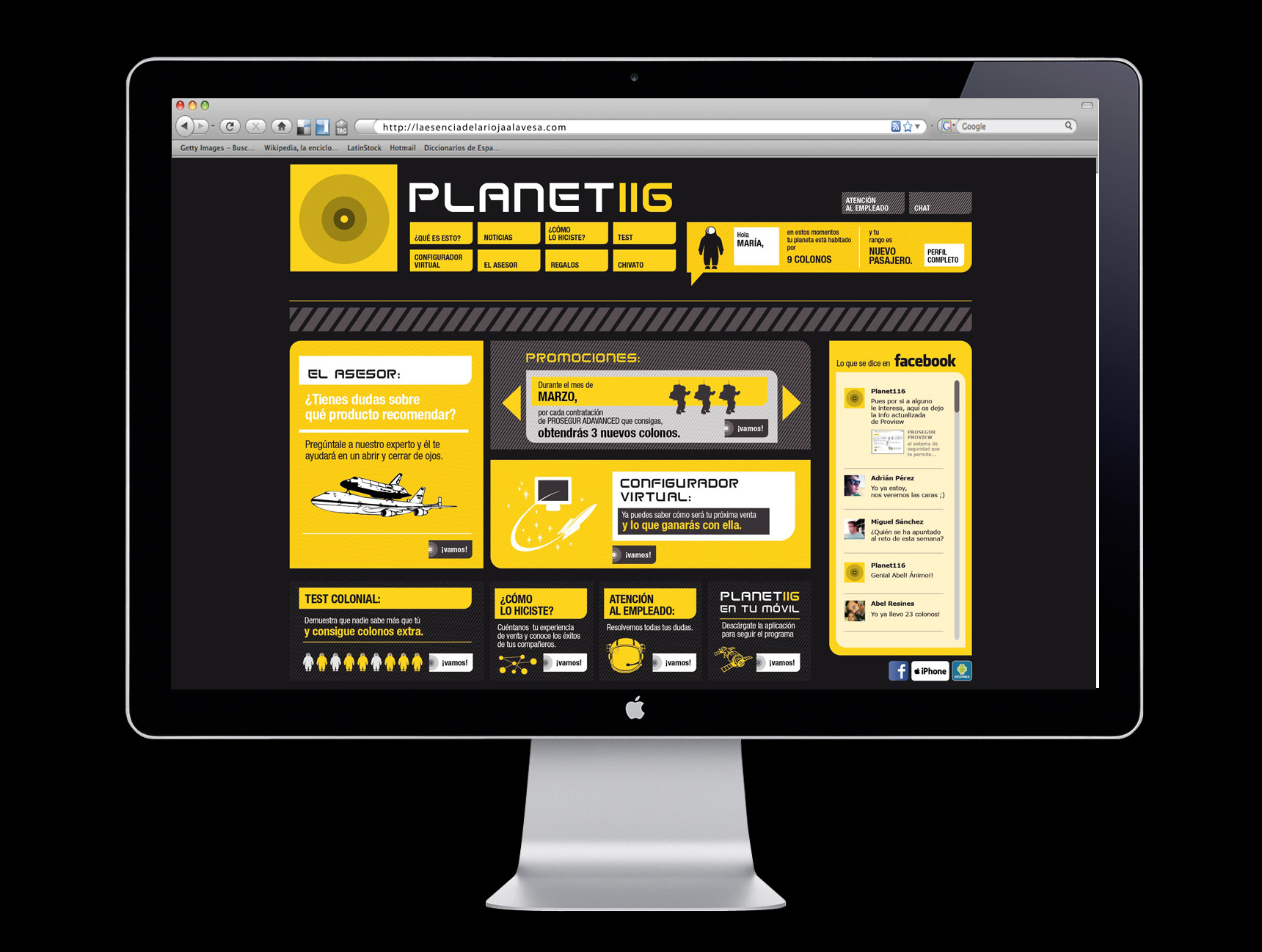 Toda la acción se desarrollaba en la web de Planet 116.  La web contenía el acceso personalizado de cada persona, sus puntos acumulados, su posición en la competición, una serie de consejos para realizar mejores contrataciones, el canjeo de puntos por regalos, promociones para ofrecer, aplicaciones para el móvil...
All the action occurs in the website of Planet 116. The web included personalized access for each employee, their points, place in the competitio and a series of advice to reach better contract signings, the exchange of points for gifts, special promotions they could offer, mobile apps...
Además, cada cierto tiempo, recibían por e-mail retos (vender un producto concreto ese mes por ejemplo) entre empleados o departamentos, para que ellos pudieran interactuar también con sus compañeros de oficina. 
Also, in regular periods. they received e-mail challenge (sell a specific product for the month, for example) between employees or departments, so they could interact also with their colleagues.